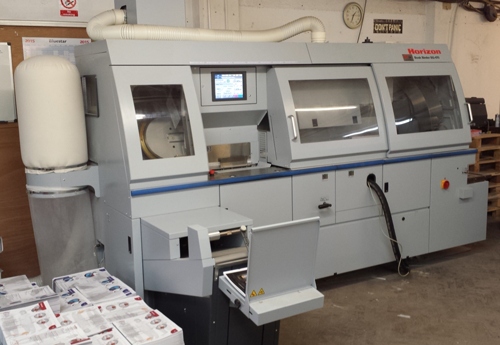 This is the latest very strong glue for long shelf life, For Digital and Litho books, From 2mm to 60mm thick.  A6 – 310sq  from a one off copy up to 5000 copies.
Producing same day turn around on digital work up to 500 copies.  All produced on
Our brand new state of art binder with computer navigation make ready system.
Pur glue as a curing time of 24 hours to be at it maximum strength.
So what is PUR.
PUR adhesive offers superior adhesion over EVA and also the ability for the bound book to lay flat without compromising the binding strength.  The polar nature of polyurethane molecule allows it to adhere to UV-cured coatings, films, as well as to traditional uncoated and clay-coated papers
Due to PUR using smaller amounts of adhesive over perfect binding it also means that you can achieve a square spine on even the thinnest of books.  PUR glue is more durable and flexible than EVA glue and, once the glue has set, it is almost impossible to tear a page out of a PUR-bound book